"BEEF AND REEF" – THE BEEFIER CATCH BY THE MANHATTAN FISH MARKET
Being known for a place which specializes in seafood related dishes, The Manhattan FISH MARKET has made a comeback this April with The Beefier Catch. Yes, you did not hear it wrong – it is not just seafood this time, we are talking about red meat here. Spicing things up a little, The Manhattan FISH MARKET is back to surprise its customers with four special "beef-and-reef" dishes.
Handmade Beef Patty & Bouillabaisse (pictured above) is the first dish to be served that afternoon and oh boy, it was great! The succulent beef patty was paired nicely with spiced seafood stew. Needless to say, the seafood in the stew – mussels, prawns and fish fillet was cooked to perfection. To top it off, curry spices are added into the stew to add a little bit of kick to the tomato-base stew.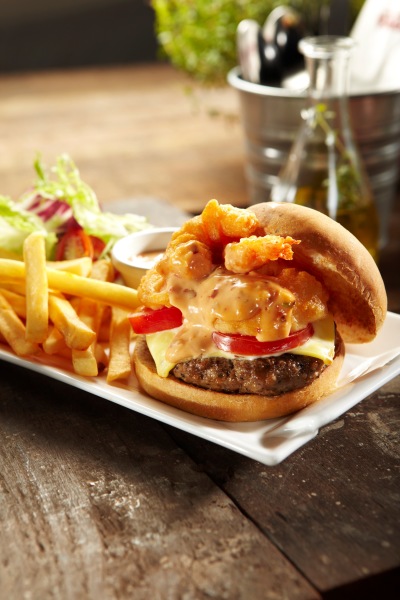 This same neatly spiced beef patty was being paired with tempura prawns in another dish. Handmade Beef Patty & Tempura Prawns in my opinion is a strangely flawless combination. I never expected for prawns to be paired with beef in a burger, however, it tasted surprisingly good. Perhaps, the individual types of meat were handled impeccably – the patty was tender and the tempura prawns were crispy on the outside and juicy on the inside.
The next two dishes feature a whole oven baked beef ribs. Starting with Oven Baked Beef Rib & Flaming Prawns, (pictured above) the prawns are without a doubt, splendid. With melted cream and cheese as topping, the flavor of the prawns was delicately emphasized – it is almost as if you can taste the sea inside your mouth. The next pairing was with Grilled Ocean Perch – you can choose to upgrade it to other types of fishes like salmon and cod fillet as well. Lightly seasoned with salt and pepper, the flavor of the fish was distinctively carried forward, making it a delightful taste. However, the ribs were a little tough and the innately unique taste of the red meat was overwhelmed by the spices and sauces topping it. Even though it was a little disappointing, the seafood served with it made up for it.
The final verdict is this: The Beefier Catch is definitely worth the try (I mean, just the seafood alone can win you over), however, it would have been perfect if the ribs were more tender.
The Beefier Catch is available at all The Manhattan FISH MARKET stores, for a limited time only – till 31 May 2015.