FESTIVE DINNER AND SEASONAL FEASTS TO GO : ZERO STRESS NOR COOKING INVOLVED
Everyone wants to enjoy a Festive Dinner that is simply divine, but we don't all want to spend our hours slaving away in the kitchen!
Lucky for us we don't need to!  Here, we have just some of the options to consider when planning your Festive Feast, Traditional lunch or Seasonal Sharing meals.
Whether you are hosting a merry party for eight or throwing a festive feast for 40, there are a range of Christmas festive menus, mini buffets and party treats to delight all of your guests.
To avoid all the stress of cooking Seasonal Feasts to go is definitely the way forward!
Take away a taste of Heritage from Goodwood Park Hotel
With new exquisitely crafted highlights as well as welcome back favourites, Goodwood Park Hotel has a take away spread for you this cheerful season.  Goodwill Portuguese-style Curry Turkey will steal the limelight at your feast with its irresistible aroma and full flavours.  Priced at $218 serves 10 to 12 persons.  Slow Roasted Ibérico Pork Belly with Crackling comes along with Pickled Cabbage, Apple Sauce and Pork Jus.  Priced $320 for 6 to 8 persons.  With a choice of appetiser and party favourites as well as divine desserts, these and many, many more take away treats are available from 1st to 26th December 2015.
Advance orders are required three working days ahead and the Deli is open 9am to 9pm daily.  Last order date is 18th December.  For more information, click HERE, or email festive@goodwoodparkhotel.com
Have a Great-Ful Christmas with Neo Garden Catering
This Christmas, Neo Garden Catering offers a selection of delectable buffet packages for those planning the perfect festive celebration – be it a big Christmas party, or an intimate get-together. From party packs, to mini and regular buffets, Neo Garden Catering can cater to all your wishes while you sit back, relax and enjoy with your loved ones.
Festive Menu ideas – Neo Garden Catering have 3 regular Christmas buffet menus with prices starting at $19.88 (inclusive of GST) min 40 pax to $2988 (inclusive of GST) min 30 pax.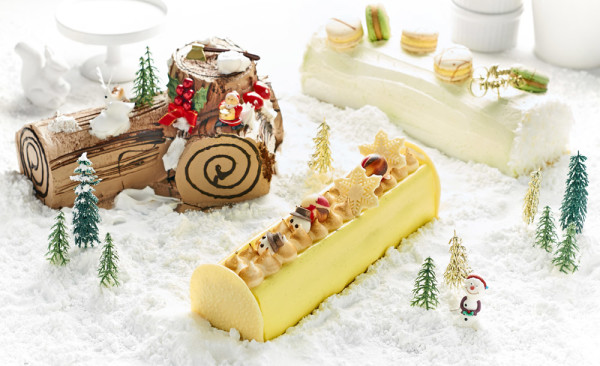 Savouries and Sweets to delight your guests – The Traditional Roasted Turkey is priced at $98.80 and there are a variety of log cakes priced from $48.80 (choose Chocolate Fudge Log Cake, Ondeh Ondeh Log Cake or Lemon Yuzu Log Cake.
Early Bird Specials on orders made before 7 December 2015
OCBC Bank promotion of 10% discount on Christmas Regular Buffets placed between 2 November and 1 January.
To place your order, call 6896 7757 or order online HERE
Ring in the Festivities with goodies and treats from Mandarin Oriental
The Mandarin Oriental, Singapore festive counter is open from 30th November and will be preparing Festive Foods that you can serve up to your family and friends this Holiday Season.
Look forward to the Traditional Roasted Christmas Turkey (serves 6 to 8 priced at $180) or Mandarin Oriental Truffle Christmas Turkey (serves 6 to 8 priced at $380), each accompanied with sourdough stuffing or mushrooms and chestnuts, roasted potatoes and vegetables. Or choose the succulent Honey-Glazed (bone-in) Christmas Ham (serves 6 to 8 priced at $180), the Roasted Australian Grass-fed Rib Eye (serves 4 to 6 priced at $250). You can also add to your table the Crackling Pork Knuckle (serves 2 to 3 persons priced at $68) with roasted pumpkin and chestnuts as well as braised red cabbage and German bier jus. For an Oriental twist, try the Chinese Roasted Christmas Goose (serves 6 to 8 priced at $160), served with eight treasures glutinous rice, napa cabbage, based black mushrooms with chestnuts and natural jus. If you are looking for a entrée to serve to your guests, then order the Homemade Mushroom Soup with Truffle Oil (1 litre priced at $40).
Of course there are many sweet treats to finish off the festive meals too; Christmas Snow White (500g or 1kg priced at $42 or $80) is roasted pistachio genoa, strawberry compote, apple confit and Normandy cream cheese mousse, theres a Traditional Chocolate Yule (500g or 1kg priced at $36 or $70) as well as the Christmas Red Velvet Fruit Cake (300g or 600g priced at $26 or $50) – a homemade pound cake topped with Christmas spices, butter cream and candied orange.
For enquiries and orders, do call 6885 3081 or email mosin-festive@mohg.com
Just Bring Dessert
If you are invited to spend the Festive Season dining with family or friends, or are thinking of treating your work colleagues to a sweet treat around the coffee machine to spread some festive joy, then do just bring dessert.  As well as the dessert and cake creations mentioned above, there are some truly satisfying options from some of our favourite bakers too:-
Poppy & Co
(Pictured above) This Poppy & Co creation is one that will satisfy every gourmand. The Speculoos Cookie Butter Christmas Cake is a multilayer medley of fluffy chocolate sponge cake, Speculoos cookie butter ganache, atop a crisp and sturdy milk chocolate feuilletine base laced with creamy Speculoos cookie butter. $70 per cake.
Lady M Confectionary
The Couronne du Chocolat is perfect to satisfy every sweet tooth and chocolate lover. With a ring of white chocolate shavings, a classy coat of ganache and chocolate crumbs, the layers of the moist chocolate sponge cake are alternated with dark-rich chocolate mousse.  The Couronne du Chocolat is available to pre-order during November and December 2015 from Lady M boutiques. $70 per cake and $7.50 per slice.